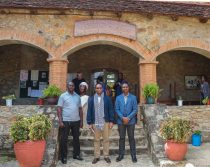 In the picture is the Director of the National, Dr. Noel Lwoga.
Dr. Noel Lwoga had the opportunity to visit Iringa Boma Regional Museum on their way from Iringa to Dodoma. The preservation of the archaeological site, as part of a museum and cultural centre, and Narratives / History of locals and Chiefs for visitors and even natives of Iringa Region is one of the efforts he supported during the tour.
He also commended the efforts made by our project fahari yetu Tanzania, in promoting and developing culture in the southern highlands and Tanzania.