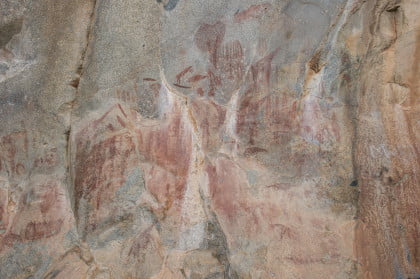 30,000 Tsh/person;
Guide, Transport, Entrance
About 3 Hours
Travel by your choice of transport (Bajaj, dalladalla, or bicycle) to reach the ancient and lesser-known Igeleke Rock Paintings! This rock shelter was once sacred to local communities who used it for rituals. Archaeological remains from ground excavations indicate human activity around the site from the late Stone Age 40,000 years ago through the Iron Age until far into the so-called historical period. The rock art paintings are hunter-forager style, produced mainly in red ochre. They consist of more than 30 well preserved naturalistic human and animal figures, including giraffes, eland, wildebeest, and elephants as well as candelabra trees
25,000 Tsh/person;
Guide
About 2 Hours
Take a guided walk through Iringa Town's history to sites featured in our exhibitions and beyond. These include historically significant locals related to the German occupation such as the old German market and military station, or the Kitanzini Hanging Tree monument. You will also walk down historic streets to visit the common wealth graves and buildings such as the Retco bus stand, elaborating the changes in Iringa from the turn of the century through urbanization to the current day.
Gangilonga Rock Sunset Tour

20,000 Tsh/person;
Guide, Tea/Coffee and Snack
2 Hours
Visit a beautiful, rarely-visited lookout for views of Iringa and a great sunset. Afterwards, sit for a local cup of chai (tea) or Kahawa (coffee) and Kashata (peanut and sugarcane treat). Gangilonga is taken from the Hehe words Iligangalyelilonga, which is "the stone that speaks." The Hehe traditionally used this area as a place of worship and to speak to ancestors. It is also said Chief Mkwawa used the rock as a vantage point to monitor the German's movements in Iringa Town during his guerrilla resistance in 1894-98. Today, you can climb the rock for some stunning views of Iringa Town.
15,000 Tsh/person;
Guide, Tea/coffee & Snack
Lunch
About 2 Hours
Enjoy Strolling through the marketplace, learning about Tanzania's local foods, their uses, their medicinal qualities, and how to prepare them
40,000 Tsh/person;
Guide, Transport, Drink, and Snacks
About 3-4 Hours
Enjoy the Little Ruaha River for the morning or afternoon travelling by either Dalladalla or bicycle (add 10,000 Tsh for rental), to an entry point 15 km outside of town
30,000 Tsh/person;
Guide, Bicycle, Drink, and Snacks
2-6 Hours
Bike around Iringa and the surrounding area to visit your choice of sights! See the previous tours for ideas or ask your guide
Contact for more information and booking of the tours:
Email: [email protected]
Tel: +255 714 007130 / +255 762 424642